How to Prepare Your Child for a Photo Shoot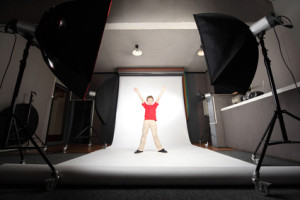 A good number of new faces in the acting and modeling business will attempt to use their own amateur photographs and sometimes school pictures for their headshots and zed cards. While this strategy may seem like a good idea, these types of photographs will not project a professional image and oftentimes fail to impress important figures in the industry. The cost associated with utilizing the experience of a photographer that specializes in photographing models and actors will pay off in the long run since your child will be more likely to get called back for auditions and jobs. Here are our tips from the Premiere Talent Tip Series
Finding a Photographer
While you want to use a professional photographer for your headshots or zed cards, you should look for someone that also has experience shooting for models and actors. Ask for examples of their previous work, and choose someone that has worked with minors before to make sure that they will be able to effectively communicate with and direct your child. By selecting a photographer with extensive experience shooting headshots and zed cards, you are much more likely to receive a product that will cater to industry needs.
Time Frame
Once you have selected the appropriate photographer and are setting up a time to complete the photo shoot there are some factors you may want to consider. Choose a time when your child is most energetic and engaged and avoid scheduling the shoot at a point in the day when your child may be ready for a nap or a meal.
The day before and the hours prior to a shoot are important contributors to the success of the event. You will want to make sure that your child has had an adequate amount of sleep the night before a shoot and also watch what you feed them the evening before and day of the photo shoot. If your child is sleep deprived or has sugar in their system it will be difficult for them to stay focused and give their best performance. A healthy breakfast and some light snacks and water can help your child keep their energy up during the shoot.
Appearance
Since your child or teen's appearance on the day of the shoot will factor greatly in the impression created with the photographs there are several points you should keep in mind:
Grooming is important for both children and teenagers. The child's hair will be the main element of concern while a teenager should have freshly shaved legs, underarms and unnecessary facial hair. Their eyebrows should be shaped and the removal of body hair can help enhance their appearance as well.
Medium length, manicured nails with clear polish are ideal for females while males should have short and clean nails.
If hair styling services will not be available at the photo shoot then you should arrive at the shoot with clean, dry and lightly styled hair. Keeping your hair's natural texture and wearing it down is recommended for the shoot. If you are planning to cut or color your child's hair this should be done at least one week before the shoot. Since these photographs should provide a realistic representation of your child don't try to change their hair in an excessive manner before or after the shoot.
A camera will pick up on even minuscule imperfections so it can be highly beneficial to seek the services of a make-up artist. If these services are not offered at the shoot then you may want to get this element taken care of before the shoot. Males should not look as if they are wearing makeup and females should have a light, natural appearance as well. The main purpose of the makeup is to enhance a person's features and cover up small flaws.
Clothing that is clean and not overly distracting is ideal for a photo shoot. If headshots are being taken then the top of the outfit is the most significant since it will be displayed in the photograph. Dark, deep and solid colors tent to work best for a variety of skin tones and physical features. While black can be used colors tend to do more to enhance a person's features. Avoid clothing with logos, graphics and pastel colors.
If the photo shoot is for a zed card then an assortment of different types of clothing will be needed. The clothes used in the shoot should be modern and flattering to the model's build. Your photographer will usually give you an estimate of the number of outfits needed and you may also want to bring one or two extra pieces. Each outfit needs matching shoes and accessories. Layering tops and adding hats, jackets, jewelry or scarves can work together to form a "complete outfit." Clothes should be age-appropriate and complement the model's looks without distracting from the actual person.
Final Considerations
When it comes down to it just focus on the purpose of the shoot and relax and enjoy your time. If your child or teen is stressed and anxious this will negatively impact the shoot and show up on camera. Magazines and catalogs can help you gain some ideas for the shoot and it may even be beneficial to bring individual ads with you. Some CDs that contain good dance music can also be helpful. Using the music can help your child loosen up and come up with new poses as they display their personality. Good photographers will help you find the best poses for your child but it is up to them to showcase their smiles and personality during the shoot. Practice at home before coming in for the shoot to work with different expressions and find the best looks for your child.