Breaking Down the Role of a Talent Manager
If you plan on working professionally in the entertainment industry then it is essential for you to have an agent or manager. The options available to you will differ according to your location but you should be able to find a reputable management company or agency that can help you excel in your career. This business arrangement can have a profound impact on your success. In most cases it is not necessary to hire a manager until you decide to move to New York or Los Angeles because smaller markets will usually provide the services of both a manager and an agent.
A Manager's Duties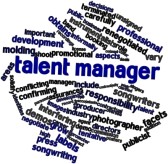 The job of a manager is like a chief executive officer. They are in a position of leadership to guide you along the best path for your career goals. They will often explain the pros and cons of opportunities that you receive to help you make high-quality decisions. This can include the agents you sign with, jobs that you accept and even smaller details such as the types of photos that you take. This is done so that you can benefit from the knowledge and experience of your manager and take strategic action.
For instance, if an actor was presented with a contract for a show that incorporated a clause that would prevent them from participating in any similar show in the future, they would need to understand the specific ways that they would be limited by signing this contract. It would also be beneficial for them to know what advantages they would receive by agreeing to this contract such as exposure, compensation, etc. The following points are the basic duties that should be carried out by your manager:
Sending out your headshots to get you representation

. This will usually be done by contacting one agency at a time.

Assisting with Client packages

. This can involve things such as finding high-quality photographers, professional coaching and additional training.

Networking with Industry Professionals

. One of the manager's main jobs is to promote their clients among their contacts in the industry. This can include people such as producers, directors, agents, casting directors, etc.
In general, managers will have fewer clients than agents. This is largely due to the time that must be dedicated to every client. A manager will typically communicate more regularly with each individual that they are working with and will oftentimes speak with them on a daily basis. Whereas an agent, will usually only contact the talent once every week or so. For this reason, a manager would not be able to handle the same volume of clients as an agent and provide the same level of service that is required of them.
The number of clients that a specific manager will represent depends on the level of success that their talent has achieved. If most of their client base is finding regular work and is steady on their career path then they may be able to handle a larger number of individuals. If their talent requires more individualized attention to find work then the manager will either have to dedicate more time to a smaller group of clients or recommend changes for the talent. Each individual that the manager works with will have different backgrounds and goals, which can result in several unique relationships.
If a client is really new then a manager may contact casting directors and agents directly so that they can get them working more quickly. In the beginning, the talent will often accept any opportunities available to them, which could include student films or roles in community theatres to build up their resume. The manager can also serve as a publicist to get their talent in the spotlight with interviews, newspapers, etc. Managers can also gain access to feedback from casting directors that their client has auditioned with to help them improve for future auditions.
The manager will want to make sure that their talent is prepared for any auditions or jobs that they book since this will reflect on both their clients and their abilities as a manager. In the majority of instances you will only have one manager for your film and television projects. However, if you are involved in other areas of the industry such as music then you will probably have a separate manager for those performances since the two areas require specialized experience.
Signing with a Talent Manager
Before you select a manager to represent you, there are several things that you should look into to give you an accurate understanding of the potential relationship. These factors include:
Commission – The standard rate of commission for a talent manager is anywhere between 10 to 25 percent. Most managers will work for 10 to 15 percent while other managers may choose to charge a package fee in addition to their commission. The contract that you set up should specify their rate and will usually last for one to three years.
Licensing Requirements – Every state has certain laws regarding the duties of a talent manager. For example, California's labor law prohibits talent managers from handling industry contracts, negotiating on behalf of the talent, or submitting actors for work. Some managers choose not to follow these rules but a good manager should have their clients signed with skilled agents so they do not have to break these rules. You can research the laws for your state to learn about the rules for talent managers.
Client Volume – If a manager is representing too many clients they will not be able to dedicate an adequate amount of time to each individual. Divide the number of clients a manager is handling by eight to gain an idea of how much time they can realistically spend on each client during a work day.
Manager Contacts – Who your manager knows can directly influence your career prospects. By finding out who their connections are you can decide if they have the right network for your specific goals. When a manager also works as a casting director or acting coach this can provide their clients with stronger opportunities for work.
We hope that the Premiere Talent Tip Series is helping those of you seeking a career in the entertainment industry. If you are looking to showcase your skills in front of industry professionals, come visit us at one of our Interview Weekends near you.